30 Spanish Adventurers!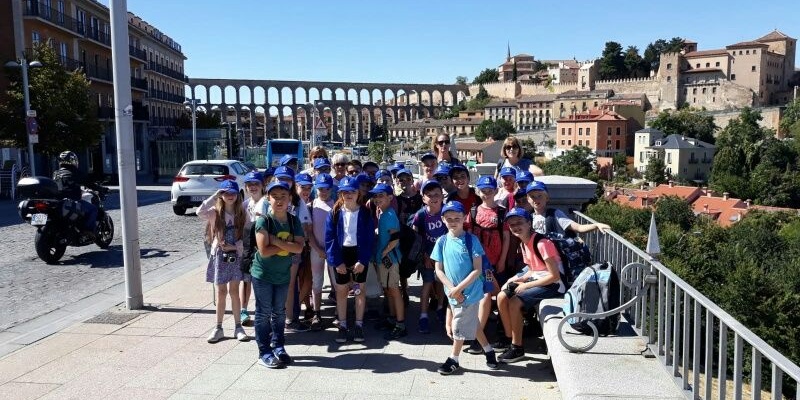 30 of our children visited our partner school in Segovia,Spain. A fun filled and educational week was had by all!
30 excited children and 4 members of Pilton Bluecoat staff recently spent 5 days at our partner school in Segovia, Spain. We flew from Bristol - Madrid with Easyjet and travelled about an hour north to the city of Segovia. We stayed in a hostel which was around 15 minutes from the school, Segovia School is quite big with in excess of 400 pupils!
Mornings were spent in school experiencing lessons while our afternoons were spent with the Spanish children enjoying activities such as Mountain walks, visiting a local castle and historical prison, shopping and sketching the local landscapes.
One evening our children went in pairs to spend the evening with a Spanish family. Some children were taken out for a typical tapas meal while others enjoyed a typical Spanish family meal followed by games. Some of our children were very nervous at the thought of going to the Spanish families but all children came back full of chatter about the wonderful times they had.
On our return journey to Madrid we stopped at Faunia park - a wonderful wildlife and botanical park. The children loved the crocodiles and Monkeys. Then, a highlight for many of the children - particuarly the boys! was a visit to the Bernabau stadium, home to Real Madrid Football club.
All of the children behaved well and were a real credit to the school, we look forward to welcoming our Spanish friends to Barnstaple in June 2019.
Special thanks to Fullabrook Community project for supplying the return coach to Bristol Airport.
Please see our gallery for more photographs.