"Lest We Forget"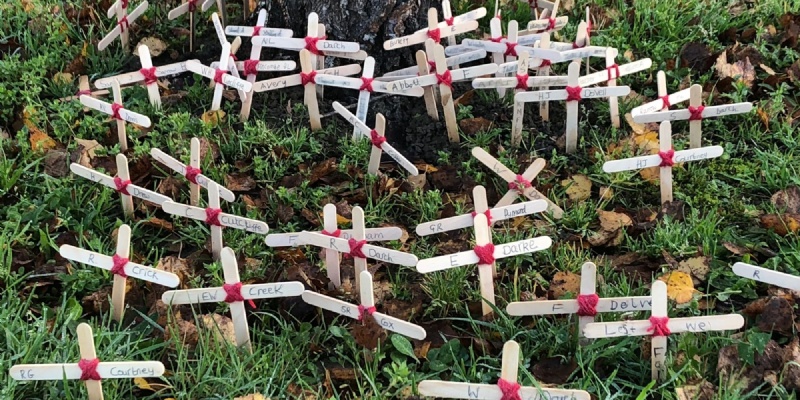 The topic this term at Pilton Bluecoat Academy is "Lest We Forget", the children have had a busy and enjoyable time learning about World War 1 and life 100 years ago – how different it was to be a child back then!
The teachers have done a marvellous job of incorporating the topic into many of the subjects including Art – designing and making a commemorative art installation, Music – learning WW1 songs, Maths – measurements of tanks and military transport, and Literacy – children reported on and wrote a newspaper article about the Christmas Truce, as well as enjoying a dress up day!
Pilton Bluecoat's Big Event took 260 excited children to Bovington Tank Museum in Dorset. All involved enjoyed a fun and informative day out, they took part in two workshops, one of which gave them a really good insight into what life in the trenches must have been like.
Each of the four year groups have been learning about the life of a local Barnstaple soldier who went to war. The pupils have learnt about the soldier's life in Pilton, where he lived, where he went to school and his experiences and fate on the battlefield.
On Friday 9th November the whole school remembered. A very special remembrance service took place where Head of school, Mr Thomas explained the importance of remembering, and how we must be forever grateful that the freedoms we all enjoy now are thanks to the courageous and brave soldiers and their families of 100 years ago.
Some of the Year 5 children went to the remembrance service at Rock Park and laid a Poppy wreath. The rest of the pupils decorated the trees at the front of the school with poppies made by our lower school children and all of the children made wooden crosses with the names of local soldiers on and planted them around the Poppy trees.
Mr Thomas said, "We have all thoroughly enjoyed the WW1 topic, Lest We Forget. It has provided our children with the opportunity to learn about the sacrifices local soldiers and their families made and has been extremely moving. The whole topic has ensured that the pupils have gained a sense of pride in their country's history along with a greater understanding of the importance of peace."
A special mention must be made to the Barnstaple History Group who kindly lent WW1 Artefacts which have greatly helped the Children's learning and understanding.