RE Day - 15th November 2018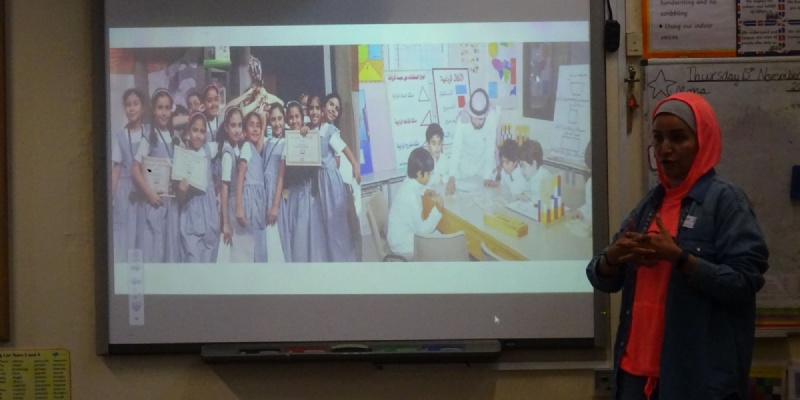 Pilton Bluecoat held its first big Religious Education Event on the 15th November.....................
On Thursday 15th November, Pilton Bluecoat played host to its first big RE event!
We had visitors from the Sikh, Hindu, Muslim and Buddhist faiths and the visitors spent the day running workshops, sharing with the children what they believe and what it is like to follow that faith in modern Britain
The purpose of day was encounter- breaking down barriers and start to understand that there are many creeds and colours represented in the UK and that to be a positive member of society we need to be open, accepting and respectful.
The children had an amazing time. It was fascinating to find out about different faiths and ways of life and the children had a chance to make connections with people whose outlooks differ from their own. It was a really interesting, cultural event, topped off with a special assembly where they children had the chance to share their learning and consider how they might commit to peace.
As well as learning about religious ways of life, across the school, children designed Peace Gardens, used drama to explore issues of prejudice and engaged in critical thinking activities related to shared values.
Alex in year 5 spent the day wearing one of Chaz's turbans, - an alternative to spending the day in someone else's shoes but very much with the same aim!
Here is what he wrote about his experience:
Putting it on:
I felt slightly nervous, yet happy. People saoid it suited me and that made me happier still.
Break:
I felt embarrassed as people questioned me and laughed. After a bit some stopped giggling meaning I felt better. It felt warm yet itchy.
After:
I feels a privilege and honour to wear a turban. I could wear this every day maybe but I may get bullied. At lunch a lot of adults and kids asked about what it was like and how it felt. I went to Pathfield Buddies and Mum saw me in the turban. My day had been amazing as we have learnt about Sikh and other religions. As I said, it has been a privilege and honour even if it was hot. Thank you (Chaz) for this unique experience.
Please look in the Gallery for many more photographs of our RE day.