Happy 50th Birthday Pilton Bluecoat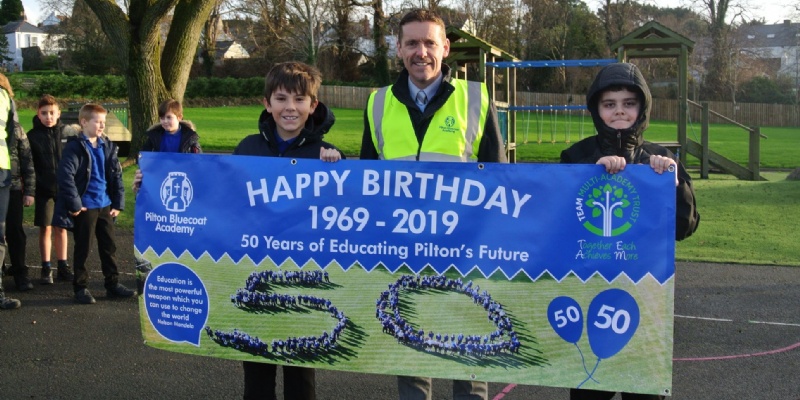 Happy 50th Birthday Pilton Bluecoat!
First day back to school and there was excitement in the air at Pilton Bluecoat Academy. The staff and children began the new term with a celebration of the schools 50th Birthday.
In January 1969, the children from three local Barnstaple schools joined together when their schools closed and the new Pilton Bluecoat Junior School in Abbey road was formed.
The three original schools were the Pilton Parish School situated in the church precincts, the Blue Coat Boys School at Barnstaple's North Gate (the playground is now the Iceland car park) and the Girls National School which is where the British Telecom building in North walk now stands.
To celebrate this event, the 260 Bluecoat Academy children and their teachers started their day by re-enacting the chilly walk that their predecessors took 50 years ago from their original schools to their new school in Abbey Road.
The children were lucky to be joined by 3 former pupils, 1 from each school, who walked with them and gave a talk on memories of their school days and a bit of history on their respective schools.
The children and guests were welcomed back to Pilton Bluecoat Academy by Rev Nigel Dilkes and CEO of TEAM Academy Trust, Rhian Nicholas where a red ribbon was cut and a celebration assembly followed.
Everyone involved thoroughly enjoyed the morning, it helped the children to understand the heritage of the school whilst also learning some local Barnstaple history.
The celebrations continue - In March of 1969 the school was officially opened by the Bishop of Exeter. We are very fortunate that the current Bishop of Exeter, Robert Atwell has agreed to perform the same service for us, 50 years to the day on the 4th March 2019.
We would love to hear from any staff or pupils who were part of the 1969 openings, please do contact us if you would like to hear about our plans or if you can indeed help us with any old photographs or memorabilia.