TEAM Trust and Safeguarding
Witheridge Academy Safeguarding Officers
Trust Lead: Rhian Nicholas (Chief Executive Officer)
Local Lead: Lucy Ratcliffe (Head of School)
The schools within TEAM Multi-Academy Trust are committed to child protection and safeguarding. We follow all statutory guidelines as well as our own policies and procedures. Our policies are published online and hard copies are available from the school office. We will act to protect a child where there is a disclosure or concern about abuse. The categories of abuse recognised by Social Services would be neglect, physical abuse, emotional abuse, and sexual abuse.
More information about child protection and safeguarding can be found on the Devon & Torbay Safeguarding Children Board's website:
http://www.devonsafeguardingchildren.org
Multi Agency Safeguarding Hub (MASH)

MASH is a partnership between Devon County Council children's social care, education and youth services; Devon NHS health services; Devon and Cornwall Police; and the Probation Service working together to safeguard children and young people. When a professional, family member or member of the public is concerned about a child or young person's safety, they can contact MASH. They deal with all enquiries/referrals where there is a child protection concern. You can find out more about what the organisation does and how to contact them in this information sheet for parents
If you have serious concerns about a child or young person, or if you need help parenting your child, you can call 0345 155 1071 or email:
(Out of hours, please call 0845 6000 388. If it's an emergency, dial 999).
Safeguarding
Safeguarding protects children beyond the four areas of abuse which must be reported to MASH. We consider safeguarding in all aspects of school life and have procedures in place to ensure that, as far as possible, 0ur children continue to be safe from harm or neglect.
The Devon Safeguarding Children Board has an Early Help strategy to protect children or young people in Devon and provide help and advice to families as soon as they need it. Early Help is about more than child protection: it is about making sure that children living in Devon are safe, happy, healthy and well educated. Early Help co-ordinators work across Devon to ensure that those children and families needing help are receiving it from the right professionals. If you feel that your family would benefit from Early Help, please contact a Designated Offer your child's school.
For additional support and advice, click on the link to the attached documents;
'Keeping Children Safe In Education'
Operation Encompass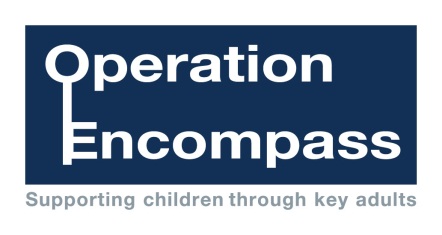 Operation Encompass is the reporting to schools, prior to the start of the next school day, when a child or young person has exposed to, or involved in, any domestic incident.
Operation Encompass will ensure that a member of the school staff, known as a Key Adult, is trained to allow them to liaise with the police and to use the information that has been shared, in confidence, while ensuring that the school is able to make provision for possible difficulties experienced by children, or their families, who have been involved in, or exposed to, a domestic abuse incident.
We are keen to offer the best support possible to all our pupils and we believe this will be extremely beneficial for all those involved.
Online safety
Most young people are accessing the internet from a variety of devices. Safe use of the internet is taught in our Personal Development Curriculum, Assemblies and on Impact Days. However, all adults need to be aware of safeguarding issues around the internet. A useful source of free advice is Get Safe Online. Adults also need to be aware of potential use of the internet in Child Sexual Exploitation (CSE) and Radicalisation and there is free and useful information, advice and resources at the following sites/links/documents:
Parents Protect Leaflet December 2015
Supporting young people online
There is a lot of support available to keep your child safe online. Below are some useful links to help parents and carers:
A website with online advice for parents of under 5s can be found at:
www.childnet.com/ufiles/Keeping-Under-Fives-Safe-Online.pdf
Other useful links:
Advice for Parents about Snapchat
Advice for Parents about Instagram